When it comes to buying food, many of us are guilty of doing it mindlessly and automatically. Supermarkets are the go-to place for most of us. No matter where you are in the world, chances are you can easily find a supermarket to get most of your groceries. But there's a lot more to buying food than just grabbing the nearest and cheapest items.
Supermarkets can be a massive contributor to the amount of waste we produce, and this isn't just limited to packaging either. The vast amount of (single-use) products that supermarkets offer can contribute to wastage on a massive scale. The good news is that there are a number of online zero waste supermarkets out there that do everything they can to reduce their environmental impact.
If you prefer to order some or all of your food shopping online, here's a list of the UK's best online zero waste supermarkets to help you find the right one for your needs.
Good Club
Best for Largest Overall Choice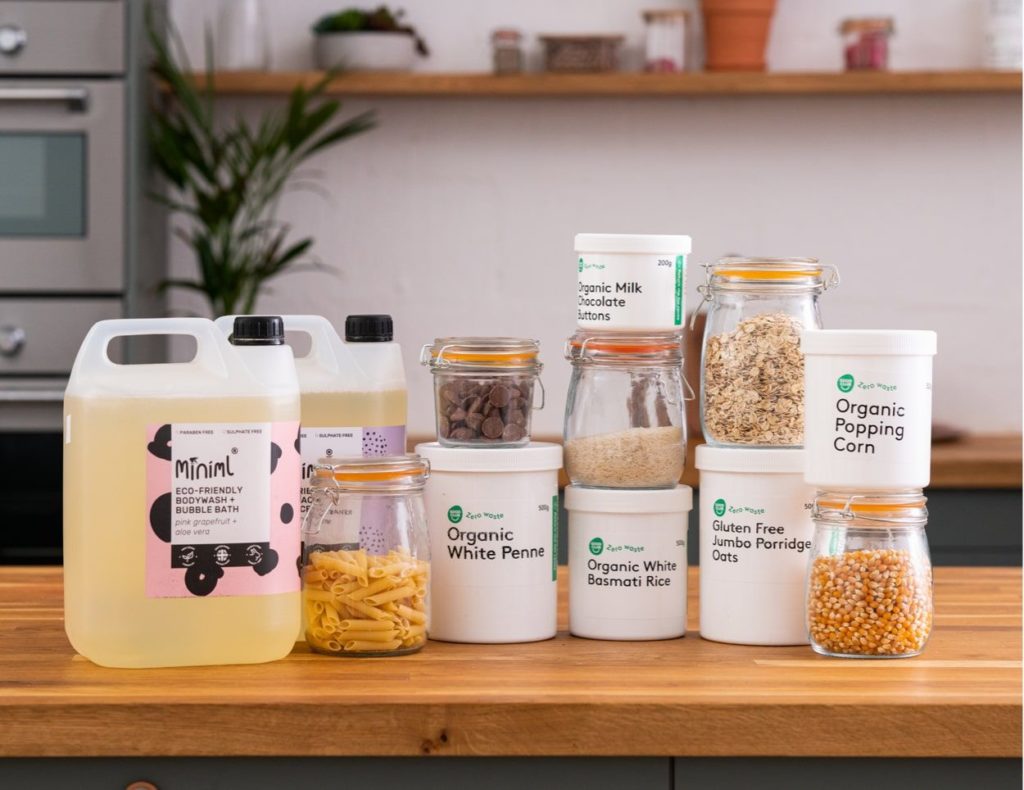 Good Club have over 500 food items and household products that are free from single-use plastics. All of their products come in reusable packaging that you can either decant into your own storage containers, or keep hold of and return when empty.
You can then leave your empty containers outside to be collected and refilled by Good Club.
Their refillable delivery services is forecasted to save 400 tonnes of single-use plastic and reduce CO2 emissions by 2,500 tonnes in the next 5 years.
Riverford Organic
Best for Organic British Food
Riverford offer a variety of organic food and grocery essentials, including seasonal fruit and vegetables and meat. They use compostable boxes to deliver their veg, which means will make sure you have the necessities for healthy living without needing to throw anything away. More than 80% of their veg is UK grown, and 100% of their meat is British.
Riverford began back in 1986 when Guy Singh-Watson started growing organic produce on his parents' farm in Devon. They are certified by both the Soil Association and B Corp UK, have also been voted in as one of Britain's 100 best companies to work for.
Zero Waste Bulk Foods
Zero Waste Bulk Foods aims to reduce the quantity of recyclables that are thrown away by making food & home essentials in plastic-free packaging readily available to everyone. Zero Waste Bulk Foods has Organic Certification from OF&G and a Five Star Food Hygiene Certificate from the FSA.
They are based in East London and delivery nationwide in the UK using unbleached paper and wood pulp bags in their packaging. They even deliver locally by pushbikes!
Zero Waste Bulk Foods stock kitchen staples such as pasta, pulses, flour, cereals, dried fruit, snacks and teas. On top of this they offer zero waste cleaning and storage items such as glass containers, wax food wraps and more. There is also a category of personal care items including deodorants, shampoo bars, and dental care products.
Eco-Sal
Best for People New To Zero Waste
Those just starting out on their eco-friendly journey will find it easier with Eco Sal. It's online store features palm oil-free, plastic-free, and vegan-friendly products for the household, personal care, pets, gifts and more.
The Eco-Sal store makes it easy to begin living a more sustainable life by offering the everyday items that won't affect your habits, they even have guides to help.
On top of that, for every £1 donated, their partnership with JUST ONE Tree means that for every one orders, Eco-Sal will donate £1 to plant a tree! Eco Sal founder, Sally, is committed to combating the throwaway culture that is harming the environment by working towards a more circular economy.
Mighty Small
Best for Sustainable Snacks
Mighty Small's online supermarket for small and start-up food and drink companies provides sustainable, organic, and zero-waste items produced exclusively in the United Kingdom. Their range of products includes categories for different occasions, vegan, keto, dairy-free dietary options, supplements and sport nutrition, and a variety of drinks.
They are a partner of FoodCycle, a charity that provides free, community meals made from surplus food across the country, which is used to provide free, nutritious meals to those who cannot afford to eat or eat alone.
---
There's our list of the best online sustainable and zero waste supermarkets. Let us know if we missed one and they deserve inclusion. If you're wondering how to shop for zero waste products on a budget, we've created a guide for that too!